Very often guys ask about the current requirements on traveling to Ukraine regarding to Covid-19 restrictions.
Many people are scared to come here, because they don't know the relevant information.
So today I wanted to share with you two official government websites that concern traveling to Ukraine, where you can see all the relevant information and be sure that you have all necessary for traveling in your hands.
1 – https://www.visitukraine.today/
This is a website from the Ministry of Health of Ukraine. It is an official state website.
It is made in a very comfortable form. On the top of it you will see the current rules of entry to Ukraine.

For example, here are the current ones as for the 19th of August 2021.
"The current rules for crossing the Ukrainian border are regulated by the Resolution of the Cabinet of Ministers of Ukraine dated December 9, 2020 No. 1236, with the latest amendments dated July 28, 2021 Resolution of the Cabinet of Ministers of Ukraine No. 787
All foreign citizens regardless of the country of arrival to enter Ukraine must have a policy (certificate) of insurance issued by an insurance company registered in Ukraine, and covers the costs related to the treatment of COVID-19, observation, and is valid for the entire period of stay in Ukraine.
All foreign citizens, holders of a temporary residence permit, as well as stateless persons need to have one of the following documents:
• a document confirming the receipt of a full course of vaccination against COVID-19 with vaccines included by WHO in the list of approved for use in emergency situations; or
• a negative rapid test for the SARS-CoV-2 antigen (RAT, Ag) that was done no more than 72 hours before entry; or
• a certificate of a negative PCR test result done no more than 72 hours before the entry.
Test and vaccination are not required for children under 12.
From August 5, 2021, citizens of Ukraine and all foreign tourists over 18 years old who have not been vaccinated against coronavirus and cross the state border to enter must install the Vdoma mobile app, which monitors self-isolation, regardless of the length of stay on the territory of Ukraine."
Also here on this website you can get the Insurance for traveling to Ukraine:

Choose any of the insurance companies provided and proceed.
Another option on the website is to see all the regulations for your specific country.
Just scroll down to this place:
And then open your country, for example, the USA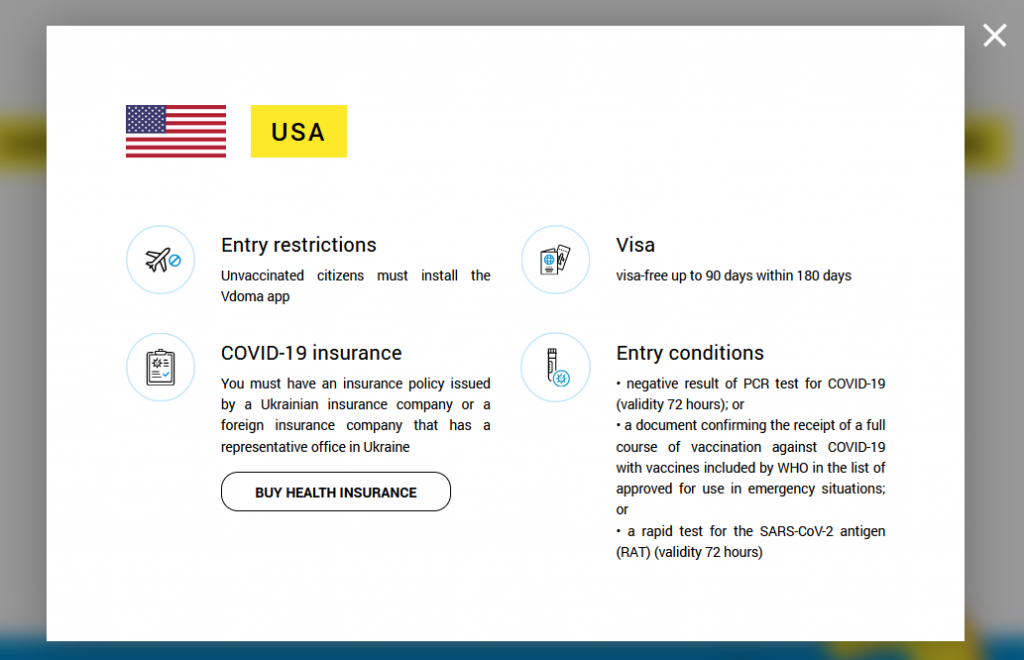 And see all necessary info for your country.
2 – https://covid19.gov.ua/en/border
This is the website from the Ministry of Foreign Affairs of Ukraine.
It basically contains the same information as the first one.
I just give it to you in case you want to recheck and confirm the information from the first website, just open this page and read what it says too.
So Ukrainian borders are open and you are welcome to travel here any time.
It is safe here and the Covid numbers are very low.
Read more about the UFMA personal Romantic tours here: https://www.ukrainianfiancee.com/tours.htm
We will be glad to arrange your stay and meetings.
Once you have any questions, just contact me here in any comfortable way: https://www.ukrainianfiancee.com/contacts.htm
Please like and share this post on Facebook 🙂
New at UFMA? Sign Up for FREE
and get 5 unique Bonuses >>>>>