Travelling to another country is a fascinating experience. The best way to keep a memory of it is to get traditional souvenirs. They will remind you of that journey and bring up once faded feelings. If you ever happen to be in Ukraine on a business or regular visit, you should drop by one of the souvenir shops and purchase a Ukrainian traditional item.
This is a memory forever. So, what should you bring from Ukraine?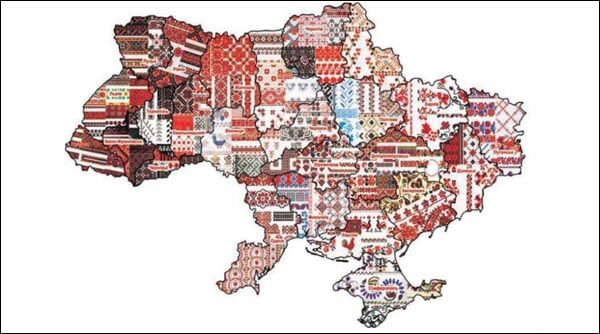 You will be struck by the variety of Ukrainian souvenirs: badges, pictures, magnets, broidery, caricatures, statues, cups and plates with Ukrainian ornaments, posters, jewelry, traditional clothes, ribbons and ceramics. They all look attractive and a foreign guest often feels lost when time comes to make a choice. Don't worry, dear friend. Check the list of three souvenir items which are purely Ukrainian and have no analogues in the world.
1. Be fashionable in Ukrainian embroidered shirt "Vyshyvanka"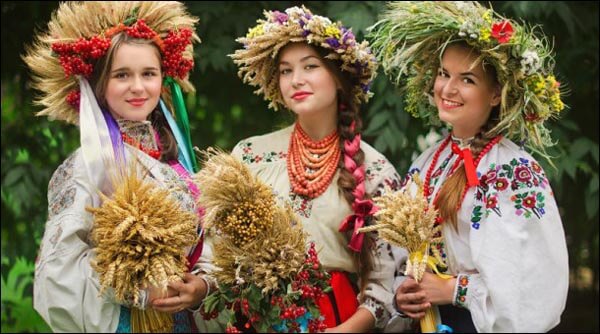 In the past "vyshyvanka" carried a very deep religious meaning and protected its owner from the evil. That's why the shirts were trimmed with various ornaments on the sleeves, collar or anywhere where the body was uncovered. Now it is a symbol of Ukrainian rebirth and cultural values. You can see modern Ukrainians wear it on the streets. Many put it on special occasions and big holidays.
Every region of Ukraine has its own peculiar "vyshyvanka" which differ from others by ornament and color gamma. The pattern is characterized by simple geometrical figures (rooted in the ancient Ukrainian mythology) and nature motives. In western Ukraine traditional shirts bear many colors while in some eastern lands they are limited in terms of color. Black and red are the most widely used colors in Ukrainian "vyshyvanka". Black symbolizes earth, fertility and wealth. And red stands for merriment, love and longevity.
Shirts were embroidered only with Ukrainian women's hands, thus it possessed a strong emotional charge and symbolized love, loyalty and good. In Kyiv Russ every woman knew many techniques of sawing. It was against principles to buy or sell an ornamented shirt, therefore even the richest Ukrainian women had to make shirts for the family herself.
2. Magic of Ukrainian painted Wooden Spoon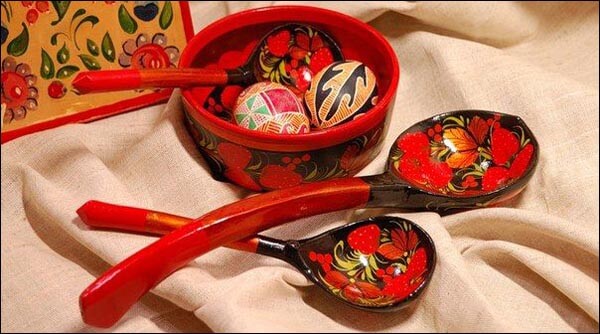 A wooden spoon is one of the most recognizable traditional items of Ukraine. You won't believe it but a wooden spoon, unlike a metal cutlery, gives the food gentle exquisite taste and scent. You can never get burnt eating from a wooden spoon.
Back in centuries wooden spoons were of many forms and sizes. They were deep and almost flat, oval and round, dull and sharp. The most widespread were white spoons meaning not painted. The most expensive ones had a carved handle made from fruit trees. Spoons that were carved and had paintings were used only on big holidays. Such spoons are now available as a souvenir.
This souvenir can still be exploited unlike many others. Instead of keeping it on the shelf, you can use it while dining. It is not only beautiful but quite useful for health. A wooden spoon is ecologically clean. No wonder that Ukrainians had ate with wooden spoons and stayed healthy till the very old age.
3.  What do you know about  Ukrainian painted egg "Pysanka"?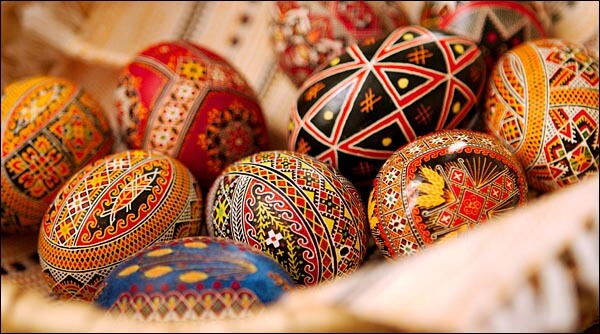 "Pysanka" is an egg painted with wax and paints. It is a symbol of Eater Holiday in Ukraine. In the past "pysankys" were present at all important occasions, such as weddings, childbirth or housewarming celebrations. It was given to those who set for a long journey as an amulet and also symbolized the beginning of a new life. It is interesting to know, Ukrainians see an egg as a symbol of life, universe and God's creation.
Ukrainian women used only natural colorings withdrawn from nature: leaves, herbs, roots and flowers. The techniques of painting were passed down the generations. A young girl would learn them from her grandmother and would not dare to change it in her lifetime. The patterns usually had a sacred meaning. The symbolism of colors is also of a great importance. The choice of the color often depended on the occasion and a receiver of the gift.
If you are planning a visit to Ukraine, or have any questions about coming here, please visit our contacts page, we will be glad to help you!
Ukrainian Fiancee Marriage Agency (UFMA Marriage) Team
PS: Please click LIKE below to share with your friends about Ukrainian souvenirs!